Charmouth Heritage Coast Centre. The picturesque sea side village of Charmouth is located on the World Heritage Site Jurassic Coast. The Lower Jurassic clays in this part of Dorset are full of fossils that are washed out of the cliffs and left in the gravel and sand to be found by those who look carefully enough…
The Centre has a Jurassic Theatre, where for a small charge (adults £1, children 50p) you can watch a short film on 'Finding fossils at Charmouth' or 'Black Ven; life on the edge'.
Throughout the year we run guided fossil hunting expeditions, rockpooling walks, plus countryside and marine discovery activities along the local coastline.

Lyme Regis. The seafront and harbour known as "The Cobb" is a jewel in a many faceted crown. The Cobb is internationally known as the place where Louisa Musgrove fell from steps, known locally as "Granny's Teeth" in the Jane Austen novel "Persuasion". The Cobb also became visually famous when the late John Fowles novel "The French Lieutenants Woman" was made into a very successful film of the same name.

Seaton Wetlands
Nearly 4km of level trails and boardwalk through beautiful marshland and reed beds alongside the river Axe, home to an abundance of wildlife.Seaton Wetlands are made up of three Local Nature Reserves - Seaton Marshes, Black Hole Marsh and Colyford Common. There is also an area known as Stafford Marsh, where you will find the Discovery Hut and hide, pond shelter, classroom, toilet facilities and wildlife garden.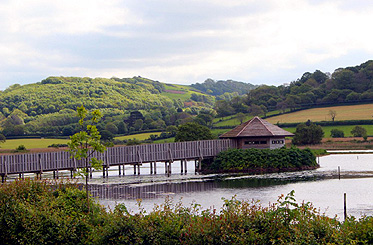 Montacute House. A glittering Elizabethan house, adorned with elegant chimneys, carved parapets and other Renaissance features, including contemporary plasterwork, chimney pieces and heraldic glass. The magnificent state rooms, including a long gallery which is the largest of its type in England, are full of fine 17th and 18th century furniture and Elizabethan and Jacobean portraits from the National Portrait Gallery. There are also good quality textiles, including an exhibition of 17th century samplers. The formal garden includes mixed borders and old roses and is surrounded by a landscape park. Montacute featured in the award winning film Sense and Sensibility.
Note: Some rooms in the house do not have electric light, so visitors wishing to make a close study of tapestries, textiles or paintings should avoid visiting on dull days.


Mapperton Gardens. A romantic valley garden deep into a lost Dorset combe among tumbling hills and unspoilt countryside. The gardens descend from the great lawn, through the formal topiary down to the valley garden. The manor house with its church, stable block, coach house, dovecote and courtyard is essentially a part of its countryside, a glorious harmony of golden sandstone. Pevsner's Dorset guide reckons "there can hardly be a more enchanting manorial group than Mapperton." The house, Elizabethan in origin, enlarged in the late 1670s, is a marvellous example of a West Country manor that fits in with its surroundings and almost grows with them. Now the home of the Earl and Countess of Sandwich, Mapperton continues to be a

family house and harks back to the restoration of Charles II when the first Earl of Sandwich

brought the King back from Holland.
.

Athelhampton House One of the finest 15th Century Houses in England. This Dorset attraction has an abundance of history both architectural and cultural.
Thomas Hardy's father, a builder, was involved in restoration works to the Great Hall and West Wing roofs in the 19th Century. It was during these times that Thomas Hardy himself first visited Athelhampton.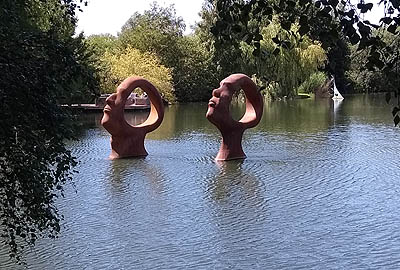 Well worth visiting - Sculpture By The Lakes, Pallington - near Dorchester

also worth visiting is Bowleaze Cove - the "nicer" part of Weymouth - see the sadly redundant cruise liners at anchor. When this photo was taken there were nine including all the Queens!
Good meals and snacks available at the Lookout Cafe also with panoramic views.
Video of a sunset cruise to the cruise ships in Weymouth Bay:
Move mouse pointer over coloured circles to identify the ships currently anchored
.

Want to see if it's going to rain? Then click here to see the Met Office live Rain Radar Map
Want to see where the cloud is - and where/when the sun may shine? Then click here for cloud map
Curious what the local weather forecast is? Then click here for Lyme Regis 14 day forecast
For local high and low tide times (Lyme Regis) info then click here
River level information for the River Char at Charmouth - click here
.......