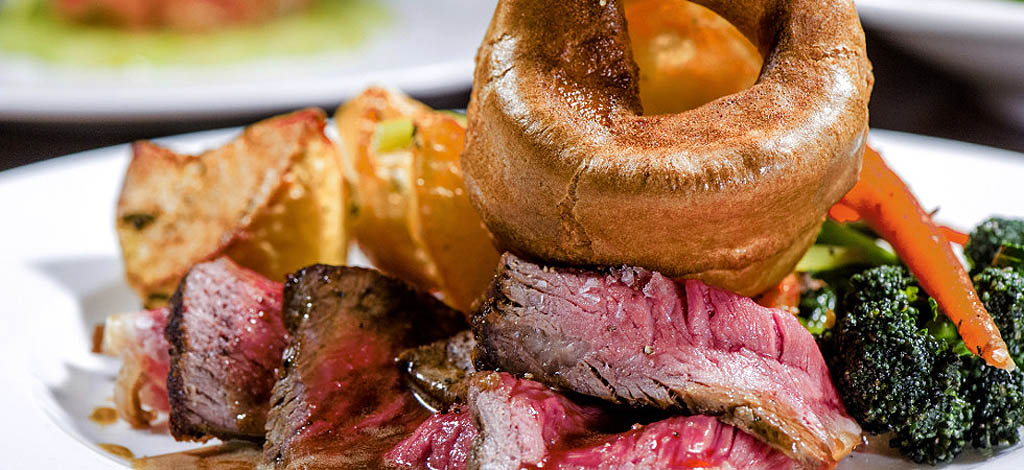 Eating out: Currently, pubs and restaurants are open for drinks and meals outside only. Take-away service still provided by many. A nice pub garden can be very appealing. There are plenty to choose from in this part of the world. Then if all is still ok on May 17th they can also all open inside as well.
See below for list of pub opening dates.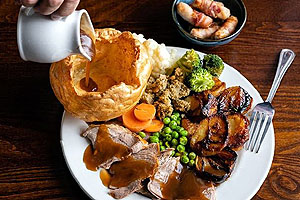 One pub worth trying for takeaway is The New Inn at Kilmington - only 12 minutes or so from Dolphins. All local produce. Their Sunday roast is a real bargain at £9. The most incredible tender meats and good selection of fresh vegetables. All locally sourced and very well cooked.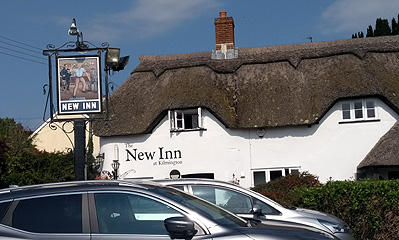 --------------------------------------------------------
In this part of the world you are spoilt for choice with places to eat out when able. The Harbour Inn at Axmouth is another recommended pub with excellent meals.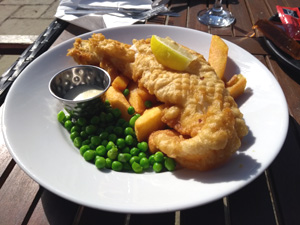 Harbour Inn fish in beer batter with chips, peas and their own tartar sauce
Some other places worth a mention:
Anchor Inn - Seatown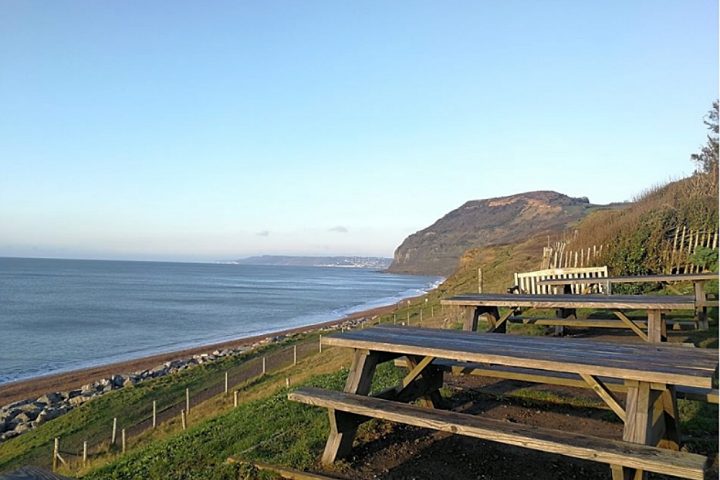 Close to the beach with sea and country views. Good food.
Ducky's - Beer (beach)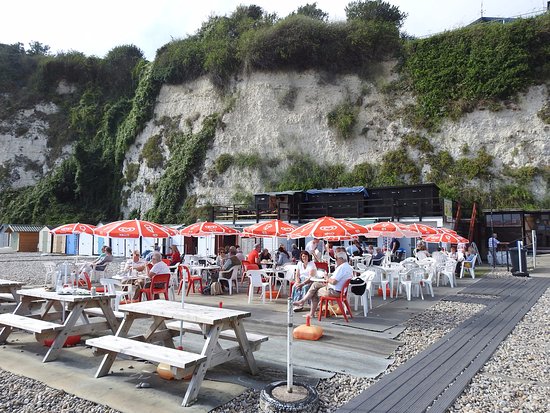 Probably the best crab sandwiches in East Devon.
Good food at good prices.
Excellent beach location.
Hare and Hounds - Waytown, near Bridport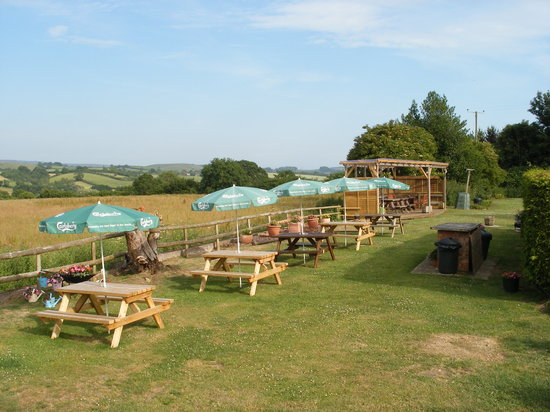 A real country pub in a quiet village with superb countryside views.
Excellent home-cooked food.
The Spyway Inn - Askerswell, near Bridport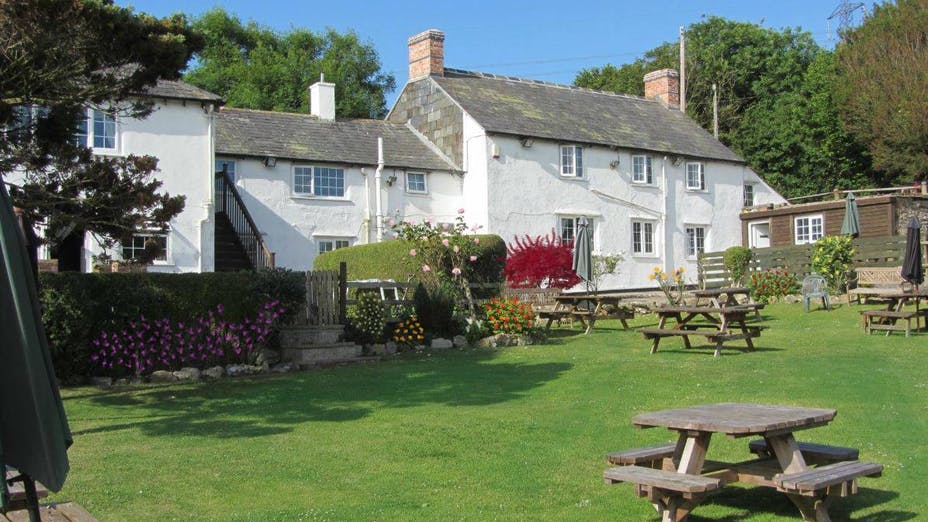 A countryside village location with countryside views.
Very good home-cooked food.
The Lobster Pot - Portland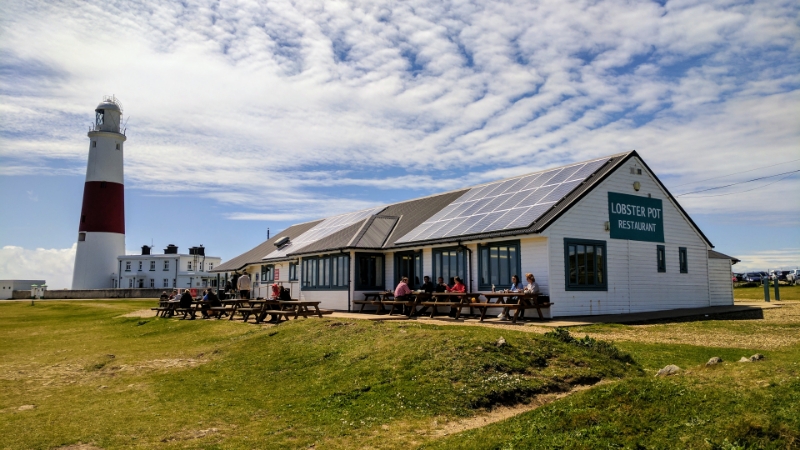 Probably the best crab sandwiches in West Dorset
Excellent location with amazing sea views.
West Bay Tearooms - West Bay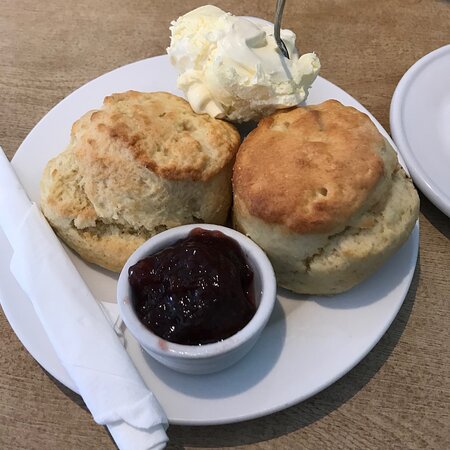 Freshly baked scones.
One of the best cream teas in Dorset having won awards
Area Pub Opening Dates - after lockdown:

Askerswell

Spyway Inn 15th April

Beaminster

Greyhound 17th May

Knapp Inn 17th May

Bridport

Bull Hotel 12th April

Ropemakers 17th May

White Lion 12th April

Tiger Inn 12th April

Crown Inn 17th May

Market House 12th April

The Pursuit of Hoppiness 12th April

The Woodman 17th May

Lord Nelson 17th May

The Hope & Anchor 17th May

Broadwindsor

White Lion 17th May


Burton Bradstock

Anchor Inn 12th April

Three Horseshoes 21st April

Charmouth

The Royal Oak 15th April

Chedington

Winyards Gap Inn 14th April

Chickerell
The Lugger 12th April

The Turk's Head 12th April

Chideock

The George Inn 17th May

Corscombe

The Fox Inn 12th April

Dorchester

Blue Raddle 21st May

Royal Oak 12th April

Goldies 12th April

Kings Arms 17th May

Old Ship Inn 12th April

Sydney Arms 12th April

Tom Browns 12th April

Trumpet Major 12th April

Victoria Hotel 12th April

Duchess of Cornwall 20th May

Hardy's 17th May

Copper Street Brewery Tap 20th May

Brewhouse & Kitchen 17th May

Vivo Lounge 17th May

Junction Hotel 17th May

Convivial Rabbit 12th April

The Colliton Club 17th May

Evershot

Acorn Inn Hotel 16th April

Eype

New Inn 12th April

Langton Herring

Elm Tree Inn 12th April

Litton Cheney

White Horse Inn 30th April

Loders

Loders Arms 14th April

Lyme Regis

Royal Lion Hotel 17th May

Royal Standard 12th April

The Lyme Bay 12th April

Swim 12th April

Rock Point Inn 17th May

The Pilot Boat 12th April

The Cobb Arms 12th April

The Volunteer Inn 17th May

Lyme Regis Harbour Inn 12th April

Lyme Regis Brewery Tap 12th April

Ship Inn 17th May

The Nag's Head 17th May

Martinstown

Brewer's Arms 16th April

Melplash

The Half Moon 14th April

Mosterton

The Admiral Hood 17th May

Nettlecombe

Marquis of Lorne 12th April

Osmington Mills

Smugglers Inn 14th April

Piddlehinton

Thimble Inn 30th April

Plush

Brace of Pheasants 19th May

Portesham

The King's Arms 12th April

Portland

George Inn 16th April

New Star 17th May

Cove House Inn 15th April

The Royal Exchange 12th April

Eight Kings 12th April

The Corner House 17th May

The Little Ship 12th April

The Boat That Rocks 12th April

The Pulpit 12th April

The Punchbowl 17th May

Puddletown

The Blue Vinny 17th May

Puncknowle

Crown Inn 12th April

Pymore

Pymore Inn 12th April

Seatown

Anchor Inn 12th April

Shave Cross

The Shave Cross Inn 12th April

Shipton Gorge

The New Inn 12th April

Stoke Abbott

New Inn 14th April

Thorncombe

Gyle 59 Brewery Tap (excellent for 'real ale' lovers!) 1st May

Uploders

Crown 15th April

Upwey

Old Ship Inn 12th April

Royal Standard 12th April

Waytown

Hare & Hounds 12th April

West Bay

Bridport Arms Hotel 17th May

Rise Cafe Bar 12th April

The George 12th April

The West Bay Hotel 12th April

The Durbeyfield Quarterdeck Pub 12th April

West Bexington

The Manor Hotel 17th May

Weymouth

Admiral Hardy 17th May

Belvedere Inn 12th April

John Gregory 12th April

Nothe Tavern 12th April

Old Rooms Inn 12th April Old

Red Lion 12th April

Rendezvous 12th April

Royal Oak Dorchester Road 12th April

Ship Inn 14th April

Famous Old Spa 12th April

The Royal Hotel 17th May

Waterloo 12th April

Wellington Arms 17th May

Weymouth White Hart 17th May

Slug & Lettuce 17th May

Nook 12th April

The Doghouse 17th May

The Globe 17th May

Actors 21st June Actors

The Market House 17th May

The Gloucester 17th May

Finns 17th May

Beefeater 17th May

The George 12th April

Duke of Albany 17th May

Spyglass Inn Preston 29th April

Lodmoor Brewer's Fayre 12th April

Spice Ship Preston 12th April Spice Ship

The Bridge Inn, Preston 16th April

The King's Arms 12th April

PlayYard 17th May

Weymouth Hardy's Hop House 17th May

Chapelhay Tavern 17th May

The Boot Inn 17th May

The Black Dog 17th May

The Royal Oak, Custom House Quay 17th May

The Duke of Cornwall 17th May

The Dolphin 17th May

Old Castle Hotel 12th April

The Park Hotel 12th April

The Golden Lion 17th May

Hotel Rembrandt 17th May

The Tides Inn 17th May

The Three Chimneys Smokehouse & Grill 12th April

The Park 12th April

The Star 17th May

Marquis of Granby 15th April

Nautico Lounge 17th May

Wyke Regis Social Club 17th May

The Fat Badger 16th April

Winterbourne Abbas

Coach House Inn 12th April